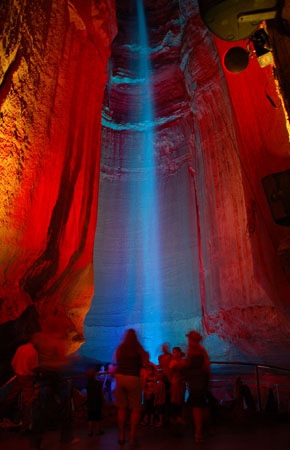 Ruby Falls celebrates 85 years since its discovery in 1928! Every visitor at Ruby Falls on Monday, December 30, 2013 will receive a flyer with fun cave facts and a vintage-style postcard to celebrate the occasion. The first 85 guests to tour on this day can take the tour for the original $2 entrance fee! This would be a great day to visit Ruby Falls and get a great deal, but get there early! FYI: Ruby Falls opens at 8:00 am
I haven't been to Ruby Falls since that one very unfortunate event during a field trip–a kindergarten student walked into a rock formation and had a giant cut on his forehead. I had to walk him back to the entrance while holding a towel to his head to stop the blood. Fun times, I tell ya! The folks at Ruby Falls took great care of us and earned a fan for life.
Hope to see you there!