It's flu season, which means a lot of us are going to be stuck inside with sick kids, recovering kids, or healthy kids driving us crazy while we're sick. At our house, being cooped up means that my boys are bouncing off the walls, fighting with each other, and acting just plain wild! It is in those times that momma needs a little sanity break. Can I get an "Amen" from all the parents?
So what's a parent to do when Cabin Fever starts? Get creative and switch things up.
Rotate Toys
Pull out something from the back of the closet or a board game that hasn't been played it a while. You'll be surprised at how this simple switch can bring new life to playtime. Often, the kids have forgotten about this long lost treasure and will get lost in playtime for hours…you're welcome.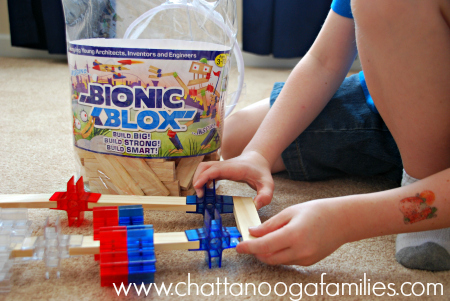 Kids in the Kitchen
Pull up a stool and hand your kids a wisk. It doesn't have to be gourmet, but an afternoon treat that they helped make is a game-changer for my kids. If I bake with my oldest during naptime, he's a completely different boy. He loves to help and get one-on-one time with me…the snack isn't so bad either. If baking isn't your thing, make some easy homemade playdough or make a volcano with kids.
Popcorn Picnic
This is a favorite at our house. My boys love to have a "Popcorn Picnic" in the living room while watching a movie. I place a quilt on the floor to catch the crumbs and give them a drink that won't leak to prevent major messes.
Build a Blanket Fort
It's a classic. Kids love it. It's a win-win.
Get them Moving
If the kids are well enough, get them moving. Set up an obstacle course, see how long they can keep a balloon in the air, play Just Dance on the Wii…the only thing that matters is that they are burning energy.
Party Bath
Occasionally, we have what we call "Party Bath" at our house. Party Bath is simple, really– just throw in some bubble bath and a package glow sticks from the dollar store or Halloween clearance. Next, add some fun music from Pandora, and turn off the lights! The kids think it's hilarious and have a lot of fun.
Bring out the Craft Supplies
I always keep a few craft things, purchased on clearance, on hand for the kids to do. Another option is to make a Collage Box and let the kids create to their hearts content. Coffee Filter Snowflakes are always a hit, too.
Change of scenery
Sometimes, simply moving to a different spot in the house for a regular task is the change of scenery we need. If you normally read books on the couch, move to the bed. If the kids normally play in the living room, let them take a toy to a new location.
Open the Blinds
This one does wonders for me. Even if it is a little gloomy, I try to open the blinds for a while during the day. If it is sunny out, the natural sunlight will boost your spirits.
Take a Walk
Even if is only to the mailbox, take a walk. If they are well enough, getting outside for a few minutes will clear everyone's head and provide some fresh air. Often times, I avoid taking the kids outside if it is too cold, but the kids don't seem to care as long as they are bundled up. I once heard it said, "It is never too cold, but it may be the wrong kind of clothing." Dig out your gloves and talk a walk. (P.S.–Do you think we'll EVER get snow again? This weather is such a tease.)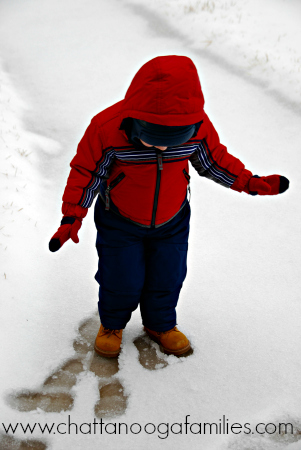 Tell me in the comments: What is your favorite way to fight cabin fever?