If you have a little dog lover at your house, you're in luck!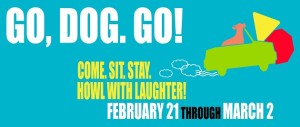 The Chattanooga Theatre Centre is performing Go, Dog. Go! Based on the popular children's book, you'll see red dogs, blue dogs, big dogs, little dogs – all kinds of wonderful dogs – riding bicycles, scooters and roller skates on their way to a big dog party held on top of a tree!  Guaranteed to have you howling with laughter!
This play is designed for children in the PreK-2nd grade age range. Tickets are $10 for all ages.
Performance Dates:
February 22, 2014 at 2:30
February 23, 2014 at 2:30
February 28, 2014 at 7:30
March 1, 2014 at 2:30
March 2, 2014 at 2:30
To order tickets, visit the Chattanooga Theatre Center's Ticket site. Our family is planning on going, so maybe we'll see you there!
For more info on area events, subscribe to our newsletter.