Event Coordinators, help us fill up our event calendar and let us spread the word about your 2016 Summer Camp, Club, Class, or even your VBS in our Chattanooga Summer Guide. Parents love seeing events and activities collected and neatly arranged in one place. This year, we would love to include your summer camp, club, or class!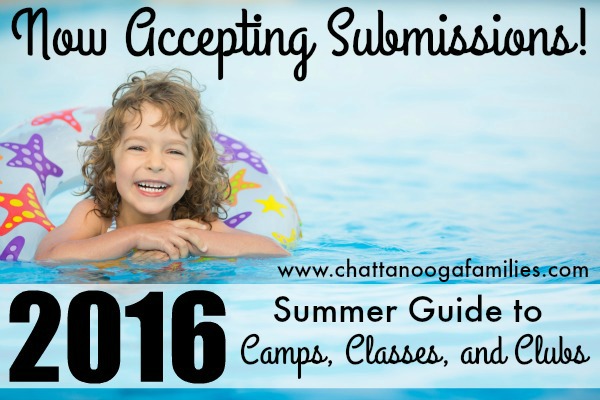 Basic Entry (FREE)
As usual, basic entry in our summer camp and class guide is COMPLETELY FREE and will include a one or two sentence summary of your event and a link to your website. It will look like the following:
"Summer Camp for Super Sleuths–Mystery camp for ages 8-11. Learn more by clicking here."
You can also submit it to our popular event calendar for FREE, too! (Just click the green button below and enter the info yourself)
Featured Event Upgrade ($50)
A featured event upgrade is an affordable way to capture readers' attention and drive customers to your site. You may choose to upgrade your event to a featured entry for only $50. A featured entry will allow you to include your graphic or logo, a full paragraph summary, and two links (for example, one link to your website and one link to your Facebook page.) All of our summer guide featured event upgrades will also be entered into our drawing for a month's worth of premium advertising space on Chattanooga Families!
You can feature a single camp in your image or a group of classes/clubs!
(Note: If you are submitting more than five camps/classes, you must purchase the upgrade.)
See the graphic below for featured upgrade examples.
You can purchase your featured listing by using the Paypal button.
For our 2016 Summer Guide, we only have room for ONE sponsor. For $100, one local business will earn sponsorship status with links, text, a clickable graphic, and social media shout-outs.
If your event isn't for kids, or your business is targeted to our audience, but isn't offering a specific summer camp, class, or club, we would love for you to consider guide sponsorship. Please email us (chattanoogafamiliesblog@gmail.com) to discuss and/or purchase your sponsorship status.
My Goal is to publish the Summer Guide in April! Fill in your event info below.